Let me preface this by saying this post has absolutely NOTHING to do with anything related remotely to the Military or anything technical.  This is more of a bitch session so feel free to ignore it if you like.  Over the 4th of July holiday, me and the family went back home to San Diego for work/vacation.  While we were there we decided to take an unplanned side trip to Disneyland.  First, my dad has worked at Disneyland for well over 20 years, since I was a kid.  As an employee perk, they are able to sign family and friends into the park and I can distinctly remember going to Disneyland several times a year as a kid.  To say I am familiar with the park, would be an understatement.
I love classic Disney.  I'm a believer that classic things should not be updated unless there is a compelling reason.  When it comes to Disney rides, some of my favorites are the ones that have been around for forever.  Things like Big Thunder, Space Mountain, Haunted House, etc.  However over the years, Disney has felt the "need" to update a bunch of stuff.  Some of these updates have occurred very recently, others further back.  These are my thoughts.
Pirates of the Caribbean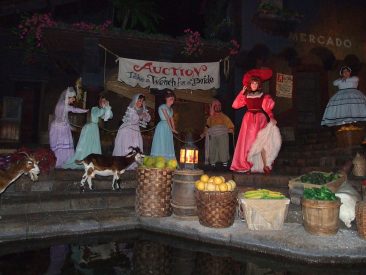 Pirates of the Caribbean first opened up at Disneyland in 1967 and was the final ride that Walt Disney himself oversaw the creation of.  The first update occurred in 1997 when they modified a scene (see below) where pirates were no longer auctioning off "wenchs" and now were instead auctioning off items held by women.  Likewise, they longer had pirates chasing women.  A relatively minor change and for a worthy reason I guess.
Then in 2006 in an attempt to cross-promote their investment in the Pirates of the Caribbean movie series, that incorporated a Johnny Depp character in several locations and had to play-up the Captain Jack Sparrow character.  All and all, relatively minor changes but honestly I think they mildly took away from the overall character of the ride.
Space Mountain
Space Mountain has been one of my favorite rides not only at Disneyland but in general for a very long time.  The ride opened originally at Disneyland in 1977.  I have to admit, I don't remember much of the original ride because in 2003, the ride closed for nearly 2 years for a massive referb which included among other things, a huge upgrade to the sound system and music track that played as you rode.  To put it simply, the upgrade which opened in 2005 was nearly perfect.  The ride had a fantastic build-up as you "launched" until you started to go, and then it was great.
Much to my dismay last week, they were now running "Hyperspace" Mountain.  A modification that had been introduced briefly in 2015 but now appears that it may be permanent which ties Space Mountain into Star Wars.  Suddenly the perfect synchronization of feeling and everything was gone.  You're now part of a Tie Fighter fight which is a cool idea, but they just sucked at the execution of it.  They drop you right into a cool fight scene, but you're still going up the damn lift ramp.  There are a couple of cool parts but it's just an overall loss that is really disappointing.
Star Tours
Star Tours debuted in 1987 as kind of a cool connection with the Star Wars franchise.  If you have never been on it, it's essentially a flight simulator system where C3PO and R2D2 accidently take your shuttle which is supposed to be taking you on a flight to Endor into the middle of a battle with the Death Star.  The ride itself was classic Disney.  Not the latest and greatest technology, but still great.
In 2010(ish) the ride shutdown and came back as Star Tours – The Adventure Continues.  The nice part is that they integrated a 3D projection system into the ride which is pretty cool.  However the storyline seems a lot more disjointed then it used to be and just not as exciting (although my 7 year old son rode it for the first time and seems to be a fan).
Fantasmic
As I mentioned, my dad has been working at Disneyland for a very long time, a large portion of that on Fantasmic which is a nightly show that is performed on Tom Sawyer Island on the Rivers of America.  The show opened up in 1992 and was a tour through Mickey's dreams (and nightmares) and featured a combination of projection, live actors, fireworks, water effects and a number of other things to tell a really cool story. 
In 2016, the show was shut down as they had to drain the river to do construction on the new Star Wars land (because why not) and reopened in 2017 with a new design.  They modified some of the scenes, add new ones, added new effects, and honestly I think did a really nice job of improving the show while keeping it's original character.  This was a big win for me.
The Incredicoaster
The current day Incredicoaster was originally called California Screamin which opened at Disney California Adventure in 2001.  To my knowledge, this was the first roller coaster that Disney had with a loop in it.  I fell in love with this coaster the first time I rode it.  It's fast, has lots of twists and turns and everything else.
In 2018 the ride closed, and re-opened as the Incredicoaster which was modified to incorporate things from The Incredibles movie franchise.  I wasn't sure what to expect, but I was very pleasantly surprised.  They added a sound track to the ride which really added to the experience, added some tunnels and a few other things.  The changes were overall fairly minor but I think had a dramatic effect in rider experience.
OK, that's it.  Like I said, a totally random post but one I wanted to write none the less.