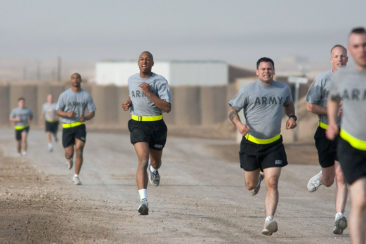 I want to take a little time today to talk about a few good lessons I've learned over the last few months.  Over the years, I've written a lot about various technical lessons and skills that I learned but recently I learned a few lessons about managing your career, and what life after the Army is like.  So I haven't put this out to many people but not to long ago, I was in the process of being chaptered out of the Army.
A semi long story relatively short…..A little over a year ago, I was taking my twice annual APFT and failed.  The run has always been a tough event for me, especially over the years as I've gotten older.  This was not the first time I had failed over the years (it has happened once or twice before but they were always close calls that I was able to pass a few weeks later).  This time though, I was way off my pace.  Without going into all of the details I will say that there were a variety of factors that contributed to this happening including an extended high priority mission, 14-hour shift work, and other work related things.
But I was also very much at fault here too.  I will be the first to admit that I am lazy when it comes to working out, and when work stuff made working out hard to do, I was perfectly happy saying screw it, I can work out later (which would be met with the same excuse).  Additionally, like many of you, over the years, my body has gotten worn out and surprisingly enough, I can't do today what I used to do.  Also like many of you, I have never really admitted that.  When I was hurt, I took a few motrain and pushed on.  As I got some rank and some flexibility, if I was hurt, I would just reduce what I was doing on my own.  Either way though, I never really treated injuries medically (more on that in a bit).
Anyway, I knew that I obviously needed to pass this thing.  I stopped with my excuses on why I didn't need to work out today and started to hit it hard.  One of my CPTs who is a great runner took the time out of his schedule and started to run the hell out of me.  I made substantial improvement but when you fast forward a bit, I still failed my second test.
Looking Over the Edge
This was truly an "Oh shit" moment.  At this point, I had probably about 17.5 years in the Army, was a 2-time APFT failure and had just had a separation action started.  I am fortunate in the fact that my sister-in-law is a JAG warrant (yes JAG has warrants, I had no idea until she put her packet in).  When this started, she was my very first call.  She referred me to one of her lawyers who was very helpful.  I was in a unique situation with this because she worked in JAG.  For anyone else going through a chapter, they eventually get to the step, but not until further in the process.
One of the first things that was beat home by the lawyer was that at this point the Army wanted to get you out, it was your job to figure out how to prevent that.  They would use the regulations against you, it is your job to use the regulations against them.  Right off the bat, the orderly room had screwed up my chapter.  Apparently, they don't chapter officers very often (go figure) so they weren't particularly familiar with the process, but knew how to do it for enlisted folks.  They figured that the process was pretty much the same and went with the cookie cutter method that they knew.  They were wrong.  The processes are very different, and for officers, there are a lot more hoops to jump through and you have to use them to your advantage.
I downloaded a copy of AR 600-8-24 and read the relevant sections many many times.  As an officer, there are some very specific required steps that need to happen.  You also have some very specific options and it's important to understand them.  During this process I can honestly say that I didn't drag my feet on the steps that I needed to do, but I was also not particularly proactive (I see no reason to help the Army kick me out).
While all of this was going on, I was still working on passing the APFT.  My command was very supportive and wanted to be able to recommend retention if I was able to pass the test during the process.  I was finally in a place where I was ready.  I took an informal test and passed the run with time to spare.  We scheduled another record exam and two days before….A lady decided to turn left in front of me.  I T-boned her at 40 MPH.  Both air bags deployed (my wife was in the car with me) and my car was totaled.  No one was seriously injured but I had severe back pain and my wife tore a shoulder muscle.  Any thought of taking my test were killed.
Looking Towards Tomorrow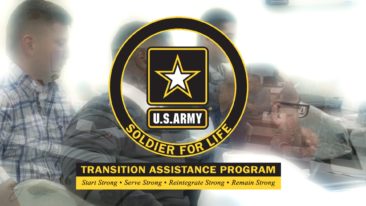 Part of the separation process is attending SFL-TAP training to teach you how to survive on the other side.  I was in the unique position of I was only a couple of months shy of hitting 18 years which meant that I was just about 2 years shy of my retirement date (I have had the intention of retiring at 20 years for a while now).  By regulation as a retiree, you can start SFL-TAP 2 years out anyway so I was doing training that I would be doing very shortly either way.
While the SFL-TAP training was a little boring at times, it was a TON of great information and I honestly wish that I had gotten some of the training years and years ago as a private.  I won't go into most of the training but the part that I wish I had heard years ago was from the VA guy.  Part of the separation/retirement process is your final medical exam and the disability evaluation.  During this time, they look at your entire medical history and figure out how broke you go while you were in the military.  This is where everything I wrote earlier about sucking it up, and pushing through injuries came back and smacked me in the head.  I have back and knee injuries over the years that I generally dealt with.  The car crash turned out to be the final straw when it came to my back (6 months later and I am still having issues).  Because I had sucked it up and pushed through all of this, it would be much harder (not impossible) for any of this to be properly rated when it came time to get my disability evaluation.  The VA guys advice from when he was a soon to be retired CSM….if he took Motrain for something for 3 days, it was time to take a trip to the TMC.  Yes, they would probably just give you more Motrain to continue taking, but at least there was a record in your file now about it.  The moral of this chapter, you are only screwing yourself when you decide to suck it up.
Another thing that SFL-TAP brought up was one day, we all will leave the Army.  Hopefully that day will come on our own terms but it is entirely possible that it can come a lot sooner than you expected (APFT/height/weight, injury, 2 x non-select, etc).  When that day comes, you still have to be able to pay the bills which likely means getting a new job.  In order to get that job, you're going to need a resume.
Resumes are how we convey everything we have done and know about to someone that we are hoping are going to pay us to keep doing it.  When I first started SFL-TAP, I thought I had an ok resume.  I was wrong.  I am not going to turn this into a resume post, but sufficed to say, you're resume likely doesn't exist, or is not what they are going to look for in the civilian world.  So start one now, and work with some of the services on post that can help you get it refined.  That way when it's time to actually need the thing, it's ready.  There are a number of services available on post that can help you with your resume.  Even if you have no intention of getting out soon, it can be useful to have a resume current and available just in case.
Today
So, after completing the VA training, I decided to do things the correct way.  Since the accident, I continued to go to the DR and kept on profile (one to document what is going on and two to protect myself and my career).  We were able to work with my Dr to get an alternate event authorized and I passed my bike ride (In case you didn't know you no longer need to be on a permanent profile in order to take an alternate event).  The chapter has gone away.  It turns out that being a stickler to the regulation really worked because every time I pointed out somewhere where they had screwed up and had to start over.  Combine that with a new commander and a variety of other factors and eventually no one was really sure where the hell the packet was.  Once I passed the APFT, it kind of became moot point and it was dropped.  On top of that, as of last week I have now gotten a permanent profile.
Through this entire process I have learned a number of lessons and had others that I already knew reinforced (in no particular order):
The Army is only looking out for the Army. You have to look out for you.
When the Army decides they are done with you, but you're not ready to be done with them, you have to be proactive and figure out how to protect yourself.
Don't suck it up….you're only screwing yourself.
You may be the best guy at your job, but it still doesn't protect you.
Final Thought
I seriously debated about writing this article for a while.  Many people within the Army like to think that anyone who fails an APFT is a dirt bag.  While many of you know that I am many things (a dirt bag is not among them), it is still odd putting this out for everyone to see.  In the end, I wanted to make sure that a lot of the younger warrants and NCOs who may read this learned what I should have learned a long time ago.  Most warrants are notorious for putting mission first…..find a way to make it happen no matter what.  But at what cost?  Do we put ourselves and our future at risk by doing that?  We have to strike the balance and keep an eye out for ourselves.