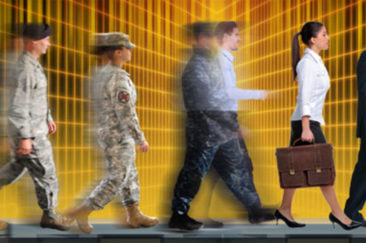 Let me lead with a little insight into my current situation. I am an Army Chief Warrant Officer 3 that is retiring from the Army after 20 years of active duty service. I have attended the Transition Assistance briefings and classes provided by my local installation. We got assistance in resume writing, doing interviews, looking for jobs via the internet, and what our military occupation translates to in the civilian sector. I went to briefings on Veterans benefits and financial planning post military because it's important to understand what allowances on top of pay we no longer will receive. But, these classes are very basic and for everyone. The VA briefings do distinguish the differences in benefits between those that ETS and those that retire but that is the extent of any differentiated training between two types of Soldiers exiting the Army.
The information about when I, as a commissioned officer, could start employment was very much discovery learning. There was no briefing on the restrictions, and the military contractors that I submitted my resume to, or called me interested in my working for them were just as naive about the issues as I was. I even dropped a question on LinkedIn to see if anyone else was in the know about post retirement employment for a commissioned officer. Mainly, could I start working as a government contractor while I was on terminal leave. I received a lot of replies explaining that I could start working as a contractor during terminal leave and a few highlighted that they wish they had not gone right to work and spent some time with their family and leaving the military behind. I received a lot of good advice. The one piece of advice that I received that was a gold mine was to see my local JAG office and enquire with them about employment and ethics as they would know the correct answer.
What I had found out was very contradictory to what I received to my question on LinkedIn. I was able to talk to the Administrative Law Lawyer in the JAG office and he informed me that, unlike an enlisted or noncommissioned officer, I as a commissioned officer, yes Chief Warrant Officer 2 and higher are commissioned officers, could not work on a military installation as a government contractor, while I was on terminal leave; the sought after "double-dipping." What I could do was work for a company at their office or head quarters or do training relevant to the position as long as it didn't involved working on the installation. After his answers to my questions, I now have to prepare myself for additional anxiety of the possibility of having a gap between paychecks from the DoD to whoever my new employer is.
If you are an enlisted / noncommissioned officer, you can start government contract work as soon as you start terminal leave but you have to get a memorandum from your commander highlighting that you will be honorably discharged (get with your local S1 and Commander for more specifics).
On government service (GS) employment there is somewhat better news but it aligns with the contract employment piece. In December of 2016, President Obama did not renew the military to GS employment wavers that President Bush signed in support of OIF/OEF. What that means is that if a transitioning soldier wants to be a GS employee, they now have to wait six months past their ETS/Retirement date to start work. The gaining GS branch can file for an exception to policy. There are two special pay tables that is not affected though, and that is Information Technology/Cyber Management and Air Traffic Control. There are already permanent exception to policies established for those to pay tables. This is one of the few post employment restrictions that affects both enlisted and officer.
Unfortunately, none of my SFL-TAP (Soldier For Life-Transition Assistance Program) classes, briefings, and counseling sessions highlighted what I stated above–very much discovery learning on my part. It has also made conversations with recruiters and future employers somewhat frustrating as I inform them that that the soonest I can start is June 1, 2018. Some of you may have found loopholes, and I would ask that you please share them. This is what LinkedIn is truly about right?