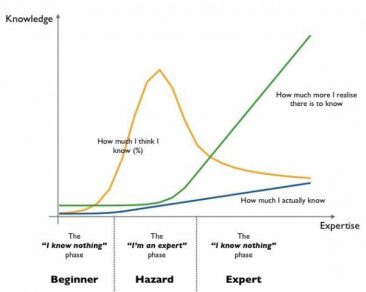 I was looking through Nixcraft on Facebook yesterday (if you haven't been to it before, check it out) and came across the graph.  I know the graph is by no means scientific and was made at least partly in jest but it got me thinking about just how true it is.  As a warrant officer, we're supposed to be experts in whatever field it is that we happen to be in.  But what exactly does that mean?
I meet plenty of people who think that that means that Chief just knows the answer to everything.  I will be the very first to admit that there is a ton that I don't know.  What I am an expert at is digging.  Give me a problem, and I will dig and dig and dig until I find an answer.  As an expert, we should first be able to admit that there is a ton that we just don't know.  Making that admission I think is the first thing that separates us from a lot of other people and the second being the fact that no matter what, we will figure it out.
A warrant officer needs to know how to use their resources.  For me (and I would hazard to guess most of you) my most valuable resource in the world is Google followed very closely by my network of fellow warrants.  We must know how to research, test out ideas, and just plain try some crazy shit that shouldn't work but we somehow make it.
There is no shortage of people in the world who fall into that second group on the diagram.  They consider themselves experts and swear that they know it all.  I know I was that guy for a while and I am sure most of you fell into it at one time.  In order for us to truly be experts though we have to realize and admit the fact that you don't know everything, and that's perfectly fine.  It doesn't mean that we are content being like that.  It means that we are on a continual journey to expand our knowledge through school, training, researching, and just tinkering with shit.  We are the people who have an idea and figure out how to make it work (try not to do it on a live network like I have done once or twice).  We are the people who read something, and think "hhmmmm, that's a cool idea but I bet I can take it one step further".  We are the people who offer advice to the "expert" and don't take offense when they ignore it and learn a hard lesson for themselves.  We are the people who listen to the advice of the guy that admits he doesn't know the answer and run with it.
I am proud to say that I know nothing, but I work each and every day to correct that problem.