What is a certification?  According to Wikipedia (and yes I hate using Wikipedia as a source but the dictionary definition is just plain stupid) certification "refers to the confirmation of certain characteristics of an object, person, or organization. This confirmation is often, but not always, provided by some form of external review, education, assessment, or audit."  The Army has dealt in certifications for decades, if not from its inception.  A tank crew gets certified when it goes through it's table 8 qualification.  A Soldier gets certified when they take and pass their APFT.  My daughter got certified recently to babysit here on post.  All of these are certifications (and there are countless more) but each certification has a different meaning and standing within the community.
Within the information technology field, there are a countless number of certifications available for people to receive.  Some have little standing within the industry as a whole while others have become the standard.  While a table 8 or APFT certification is pretty important within the Army, it has little if any meaning outside of it.  On the other hand an industry standard certification such as the Cisco Certified Network Associate (CCNA) or Microsoft Certified Solutions Expert (MCSE) has a fair bit of meaning outside of the military but is of comparatively less value within the Army.
So while we have very little choice when it comes to us getting "Army" certifications (I would love to say screw taking another APFT but unfortunately Uncle Sam won't let me) we have a lot of leeway within industry certifications.  So the question is, is it worth it?

Required Certifications
When I came into the Army in 1999 getting a professional certification was not particularly common within the signal corps.  We operated with Mobile Subscriber Equipment (MSE) which was all specially made military equipment.  There was little if any integration of civilian equipment within it so there was no reason to have a certification.
As time progressed civilian networking technology became more and more integrated into tactical signal until we reached the point of the JNN appearing on the battlefield in Iraq where suddenly tactical signal and civilian networking were the same.  Today we have a shelter full of Cisco routers and switches providing the backbone of our tactical network.  Inside the tent is a stack of servers running Microsoft Server providing us with SharePoint, Exchange, and many other enterprise type services.  As this occurred, the need to understand more and more advanced networking concepts increased but the requirement to actually get certified on any of these concepts is still fairly rare.
DOD 8570
In December 2005 the Department of Defense released DOD 8570.01-M which formally required DOD employees (remember you're a DOD employee) who have privileged access to information systems/networks and fill certain information assurance related roles to achieve a certain level of industry-recognized certification.  When this was first pushed out, it was primarily the NECs who worked to implement this by requiring that Soldiers within the unit who would have admin responsibilities (primarily your 25Bs) had to get a Security+ certification (although in Feb 2014) it was announced that the Cisco CCNA Security would now be accepted to meet these requirements).  While the requirement was pretty successful on the garrison side, it has been much less so on the tactical side.  For garrison operations units only needed to get one maybe two Soldiers certified, for tactical that number goes up significantly to include pretty much every signal Soldier and officer.
Initially, there were problems with funding Soldiers first getting the training and then paying for the certification.  While many of these problems have been solved, it is not perfect and as a whole, the Army is still not anywhere near where it should be in order to actually meet the requirements laid out in 5870.  Once Soldiers receive their certifications, there are still problems keeping them certified either through retesting or continuing education.
255S
In 2012 the Army began to address the need for a warrant officer who was focused on information assurance.  They did this with the creation of the 255S Cyberspace Defense Technician.  While the creation of the 255S MOS did a number of things, one of them was the requirement that any warrant officer applying for the MOS (not obtaining the MOS) must hold an information assurance technical III.  This is normally done by receiving the CISSP certification.  Again, because this is a requirement to apply, not maintain the MOS Soldiers are often forced to get training and test for the certification on their own.  There are testing vouchers available for this exam through the Army but in my experience they are hard to come by.  In earlier this year there was an exception in place by the Signal Center waiving the requirement for the CISSP certification due to a lack of Soldiers actually applying for the position.   Check with the signal center proponent to find out if this exception is still in place
Story Time
When I was but a young wobbly one going through the basic course at Fort Gordon I, like the other 11 members of my class, all took and passed the CCNA examination and became "certified".  For those of you who may or may not be familiar with the Cisco certifications, they are good for 3 years at which time I can either take another associate level exam (there are a few of them), take a professional level exam (again there are a few of them), or let it expire.  In 2009 when my certification was getting ready to expire, I was in Iraq and just never got around to taking any of the exams and so my certification expired.
When I got home, I played with the idea of going and taking the test again to get my certification back but at the time I sat there and thought "Why?"  Me having my Cisco certification wasn't a requirement, it didn't get me any extra money, it wasn't going to get me promoted to a higher position, and at the time the Army had no way to even know if I had the stupid thing (I am told that it can show up on your ORB now but I still haven't confirmed that).  So rather than spending the $350 and driving to Kansas City to take the test, instead spent the money on beer.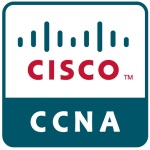 Fast-forward a couple of years to when I was stationed in Colorado Springs.  I answered an ad on Craigslist for someone looking for a CCNA in Denver to help with a small project.  My certification was still expired, but I wrote the lady anyway, told her my story, and got picked up for the job.  The job actually ended up being a relatively large project helping a networking company overall a financial company's corporate network.  It was a project that went off and on for about a year and since most of the work was after business hours it worked out great and I made a fair bit of money doing it.  But still, I think that this is the rare exception for most people in the military.
Fast-forward again to about a year ago.  I am getting to the point where I am starting to plan my retirement (I'm currently 4.5 years out) and I established the goal of at least having my Cisco Certified Network Professional (CCNP) prior to getting out.  The first step to that is getting my CCNA again.  I scheduled a test, went and took it, and failed by 25 points.  Now in fairness, I was horribly sick, but at the same time, I wasn't prepared.  I figured it would be pretty easy like it was last time.  I didn't realize that they had changed the format a little bit and made it significantly harder (frame-relay and IPV6 killed me).  Now I am busy studying up so I don't blow another $350 so I can get my CCNA and start to working on my CCNP.
Moral of the Story
So back to the point of this post….is getting (and keeping) your certifications worthwhile while you're in the Army?  Hindsight being what it is, I would say probably.  In my case, keeping my CCNA would have been worth it.  The side work I did in CO more than paid for what it would have cost me to renew my certificate twice since I got it originally.  Yes, I got the work without it, but I could have just as easily not gotten it.
Keeping our certifications current forces us to keep current on our respective skills and changes in our area of focus.  It pushes us to strive for the next level of certification which in turn pushes us to expand our knowledge base beyond what it is currently and into the next level.  Additionally as most people know it is much easier to keep what we already have achieved instead of having to start all over again.
Another important thing to remember when it comes to maintaining our certifications is that one day each of us will put away our boots and say "see ya" to the Army.  For some of us we will see that day coming a fair way away either due to retirement or just deciding that it is our time to go.  In other cases our exit may be a little bit less foreseeable due to injury, lack of advancement, or a number of other reasons (The Army is definitely getting smaller and just because you're safe today doesn't mean you'll be safe tomorrow).  While getting an industry certification should by no means be our primary goal, I think it is an important one to keep and achieve in the long run.