A critical skill I look for in every warrant officer (not just net techs) that I meet is their ability to think outside of the box.  When the Army fields us an equipment set, they do so in a cookie-cutter way that assumes a perfect world.  Anyone who has been in the Army for more than a few days though realizes that the world is rarely perfect.  How we react when things don't go perfect is the true measure of a Net Tech.  Before you read any further, let me preface the rest of this by saying that a good chunk of what you will read next likely doesn't fall in line with established doctrine (not that a ton of doctrine related to WIN-T actually exists).  While I fully endorse everything that I write, your mileage may very so think before you act.
It never fails during a rotation that real world equipment problems happen.  At the National Training Center equipment can be "destroyed" as part of the exercise where the unit must go through its processes to get it resurrected.  During that time, the equipment is not available for use but this last generally 12 hours or less.  When equipment actually breaks though, there is nothing that I or anyone else can do to bring it back online faster.  When this happens, the Net Tech is often required to think out of the box to solve these problems.  When a unit loses the use of their STT for some reason, I expect a LT to say that that unit is out of luck but for the Net Tech, I expect them to look for ways to work around the problem.  Some ideas might be that they are able to install a HCLOS link to that unit and bring them in that way or possibly bring another unit in through HCLOS or fiber and free up their STT so it can be moved.  This ability to think creatively is the hallmark of an experienced Net Tech.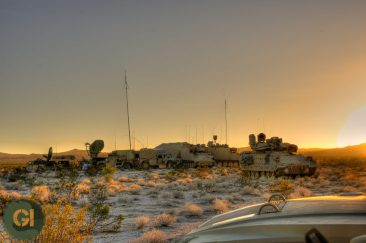 The standard solution for most BCTs within the Army (there are some differences for Stryker, AVN, and Sustainment among others) has been two JNNs and six CPNs.  The JNNs support the Brigade Main and TAC while the CPNs support their respective Battalion Mains.  However over the years I have seen that to not nearly be the case all the time.
For example, when I was a Net Tech for 2/1 ID at Fort Riley, that is exactly how we operated at home and at NTC but when we deployed to Iraq in 2008, I had a JNN at the Main, another JNN supporting an Infantry BN because they were running a FOB and 5 of my 6 CPNs supporting Company or smaller sized elements while their organic BNs were supported through other means.  While this is a bit of an extreme case, it is what we had to do in order to meet the Commander's requirements.
A less extreme and much more common example, that I see during many rotations, is the location of the 2nd JNN.  As I said, by MTOE and doctrine, that JNN is designated to support the BCT TAC.  While that may well have made sense in a static COIN environment, I personally have begun to question that in relation to a Decisive Action type scenario.
I have seen every configuration for a BCT TAC imaginable from a fully functioning mini-main to a bare bones nearly analog mobile command post.  In all of these cases, the TAC needs to be fairly mobile and able to setup and move quickly.  In my mind, the last thing that this calls for is a large system designed to support 100+ users with a HCLOS v3 following behind it.  Instead, the TAC calls for a small system that can be installed and operational in the tent quickly and is able to support 10-20 systems.  This is the perfect job for a CPN.
Likewise at the Brigade Support Battalion (BSB) in a COIN environment the CPN is only required to support the normal BN headquarters.  Once we move into a DA environment though, this footprint explodes as it is now supporting an entire Brigade Sustainment Area (BSA) with all of its logistics nodes.  This can be a large area both physically as well as from a user's perspective with lots of elements that don't have organic signal support.  This is the perfect case for a node that can support a large number of users in an area signal type role (aka a JNN).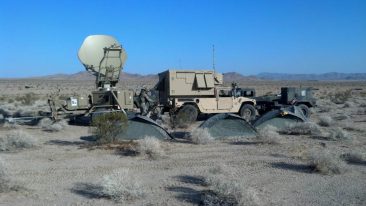 A few other things to consider here is that the BSA is a relatively fixed location.  Much like moving the main, when the BSA jumps, it's going to take some time so speed is not a huge consideration.  Secondly, the JNN has a crew which is capable of easily filling an area signal support type role.  They also have the equipment (users access cases) to extended these services outside of the immediate area away from the JNN.  Because the BSA is relatively fixed, it aids in the use of HCLOS because the shot doesn't constantly have to be reengineered every time the unit jumps.  And finally it is important to remember that the since this is a logistics area, a large part of the traffic being generated there is actually NIPR traffic going back to the world, not SIPR traffic going back to the Brigade (although there is a fair bit of that as well).  This is the perfect example of a site that would benefit from dedicated satellite bandwidth back to the hub (aka an FDMA shot).
One argument I hear on occasion (and it is a valid argument) for not doing this is in relation to the CPN crew.  By MTOE, the CPN is operated by two 25Q (for the STT) and two 25B (for the CPN).  These Soldiers make up a large portion of the BN S6 and to lose them with the CPN is a big deal.  What I have seen done multiple times and done myself is detach one of the 25Q and one of the 25B to go with the CPN to whatever unit that it is supporting.  That still leaves two Soldiers within the S6 to work commo issues.  In addition to that, because the JNN is doing an area support mission, they should be picking up some (but definitely not all) of the tasks that would normally be accomplished by the two missing individuals.
The point I am trying to get at (although not in a great way) is that as a Net Tech or even just as a warrant officer in general, we HAVE to be able to think out of the box to make the best of the network and find ways to meet the Commander's requirements.  As we say here frequently at NTC "we will never have all of the personnel or equipment that we would like" but we have to figure out a way to make it work.  That means not always turning to the book answer when the question you are trying to answer didn't come out of the book.