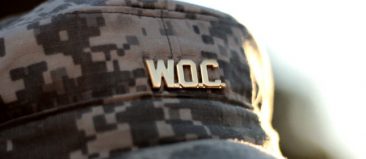 The Army Warrant Officer is a highly trained and specialized technical expert in their particular field.  This has been true since its creation on July 9, 1918, but what a warrant officer is today has changed.  Today we are no longer expected to just be the crusty old guy in the corner that drinks coffee and magically fixes things (although that is still true), we are also expected to be part "officer" as well.  That means that we are leaders, we are staff officers, we are planners, and still, we are experts.
This is a tall task to fill and requires that we continually replenish our ranks with only the most qualified and talented individuals available.  Having had the unique opportunity to closely work with nearly 60 normally junior warrant officers during their three weeks at NTC, I can say that with minor exception, I think that we have managed to meet that task.
As warrant officers, we play a unique role in ensuring that our ranks remain filled.  Yes, pretty much anyone can put in their application to become a warrant, but for the most part, I personally think that we all play an active role with those Soldiers prior to them actually dropping their application.  That role starts the very first day that a Soldier meets us.  We show them what it means to be a warrant officer; a quiet professional that the rest of the Army turns to when something HAS to work.
As time goes by, we begin to notice those young NCOs who just might have what it takes to be a warrant officer.  We notice how they are always putting forth the extra effort, how they spend their personal time continually learning their trade, how they are never willing to accept defeat when a problem is kicking them in the ass.  These are the NCOs who we rarely hear from not because they are too ignorant to ask for help when they need it, but because they are willing to do the legwork and figure it out; and when we do hear from them, we know immediately that it must be a big problem.  These are the NCOs that we work to bring into our NETOPS to work side by side with, or at the very least ensure that they are in charge of our most critical nodes.
Once we have identified these select few NCO's, we as a Corps have a responsibility to actively pursue them into joining the Corps.  We counsel them, talk to them about what being a warrant has to offer, tell them why we love our job, etc.  Why do we do this?  Because we want to ensure our peers have the technical ability and professionalism to carry on the tradition that we ourselves work hard to maintain each and every day.  There are few things that irk me more than meeting a lazy warrant officer; the  person who immediately sends out an SOS as soon as he can't figure out how to solve a problem, or even worse, just lets the problem sit there and have someone else figure it.  As a warrant if we don't know the answer, we figure it out.  We look at Google and our collection of "smart guy" stuff that we have amassed over the years.  We play around and try "stuff" until we figure it out.  And if all else fails, we reach out to our peers and seek their guidance, but at the end of the day we will always find the answer for the boss.
State of the Signal Corps
I want to spend a little bit of time bringing some information to your attention.  First, the current health of the Signal Warrant Officer Corps.  As you are aware, the Army is currently undergoing a drawdown that is dramatically affecting the look of the force with the goal being to move from a high point of 566k Soldiers in 2012 down to a projected low of 450K in 2018.  A number of programs have been put in place to voluntarily and involuntarily move Soldiers out of the force.  Fortunately for the warrant officer corps, other than reduced promotion rates (and in turn separation due to being passed over twice) these programs have largely left us alone.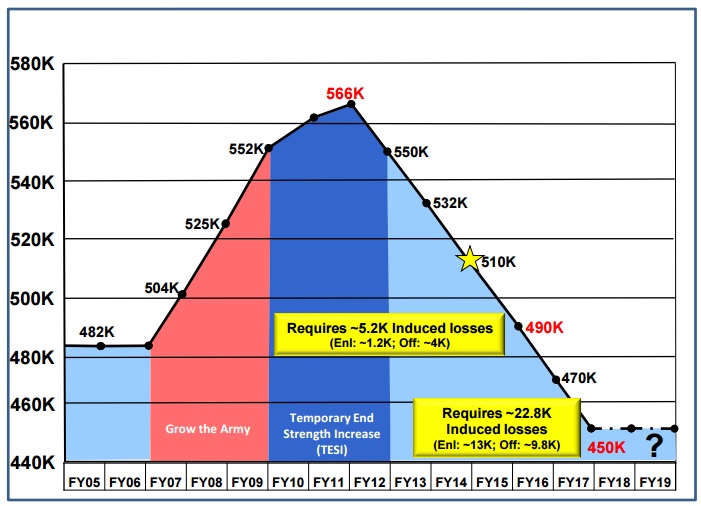 Below you'll see a chart that shows the current availability of signal warrant officers across the active duty force.  As you can see while we are over strength (substantially in some cases) in a few particular grades, across the board, we are short a large number of people (18% overall across the entire population).

This imbalance of manning has given us predictable results in the 2014 promotion board (the most recent one that I have regular access too) where promotion to CW3 (except for 255S) was at historic low rates while promotion to CW4 was near 100%.  If you look at the current warrant officer population though, you also notice that WO1/CW2 both have a very low current availability rate.  This means that signal must heavily assess new warrant officers into the corps.
Signal Warrant Officer Accession
Not long after I was selected for warrant officer in 2006, I heard from CW5(Ret) Andy Barr that his goal was for there to be three packets in front of the board for everyone one that was selected (giving a 33% chance of selection).  His thought (and I tend to agree) is that this would help ensure that only the most highly qualified candidates would be selected to join the warrant officer corps.
Recently the May 2015 warrant officer selection board results were released.  Shortly thereafter, a fairly detailed analysis of the people selected was sent out.  First, USAREC actually extended the window for receiving applications due to very low turn-out.  In addition to extended the submission window, HQ G1 approved 1/1 waivers for active federal service (over 12 years AFS), and 2/2 applications for medical weavers for signal applicants.  The very first (and probably most important point) that the analysis said was "We are lagging behind our recruitment and accession of qualified NCO applications for FY15. This action puts Signal Branch at risk of conducting fully qualified boards due to the lack of competitive applications." This means that we are very near the point where the selection board will have no choice but to select anyone who drops a packet and meets the most basic of requirements.  While the high caliber NCOs that we want to fill our ranks will still be included in that number, it also means that their not-so-stellar peers will also be standing there right next to them on the graduation stage at 1st WOCS.
A few other observations.  The average rank for people who made the move was E-6 however I recently had the pleasure of working with a brand new WO1 who was a former 1SG.  The moral of the story?  You're never too old to make the move.  Education matters.  At an absolute minimum the signal branch requires that you have 6 semesters of English just to meet the basic qualifications to even drop you packet but more is better.  Aside from improving your personal knowledge, having college credits show the board that you have the desire and dedication to improve yourself.
Bottom Line
So what does this mean?  We have our work cut out for us.  We as warrant officers must step-up our game and really push our recruiting efforts.  We have to take the time to develop our NCOs technical and leadership skills, and then show them the benefits that joining the warrant officer corps has to offer.  We must encourage them to put in an application when we feel that they are ready to represent us, and then ensure that the application is ready to go.
Just a quick refresh of the general requirements to submit an application:
US Citizenship (No Waivers)
General Technical (GT) Score of 110 or higher (No Waivers)
High School Graduate or have a GED (No Waivers)
Eligible for a Secret Security Clearance (No Waivers)
Must Have ≥ 12 Months Remaining on Enlistment Contract (Waiver Avail.)
Pass Commissioning Physical for Tech or Flight Physical for Aviators. (Waiver Avail.)
Age: Technicians ≤ 46 years / Aviators < 33 years at time packet is boarded (Waiver Avail.)
Active Federal Service: <12 years at time packet is boarded (Waiver Avail.)
Pass the Standard 3-event Army Physical Fitness Test (APFT) and Meet Height/Weight Standards
You can find additional detailed information about the specific requirements for 255A and 255N on the Warrant Officer Recruiting page.